Ghost Towns
"The Supernatural is the Natural, just not yet understood."
Elbert Hubbard
When one envisions ghost towns,
they are normally depicted with images of deserted buildings, winds that result in tiny swirling sandstorms, and a physical and psychological sense of being alone. Unfortunately, there are several ghost towns around the world that are far from deserted, and far from loneliness. These are towns that are entrenched with unfathomable mysteries. Mysteries that are based on paranormal events, ghostly legends and frightening tales of those who lurk in the shadows of the physical world, yet are very much alive in the spiritual world.
In this area of Haunted-Places-To-Go.Com,
we have listed several mystifying and enigmatic areas that we have researched from around the globe. You will learn about historical events and locations that are known to be the center of ghostly legends and ghastly tales, firsthand experiences with apparitions, and conversations from beyond the grave. You will learn about the heartache, the violence, and the mystery surrounding notable places and events that are native to the towns for which they have been experienced, and the ghostly encounters that has people looking to escape from fear, and those who rush to the areas to experience the haunting tales of these towns firsthand.
Here's
a glimpse of what you can find here….
• Learn about the haunted town in Florida, that is notable the
"Nation's Oldest City",
St. Augustine
, and the many ghosts that are said to walk among the living….
• Learn about the deep secrets of the Deep South when you are introduced to the ghostly plantations in
New Orleans
, Louisiana….
• Learn why the visitors that travel to the small town of
Bodie
in California never take anything from the city as a souvenir….
Learn all this and more in the Ghost Towns section of Haunted-Places-To-Go.Com!!!
Remember, if you have any stories that you would like to share about your favorite ghost town, be sure to submit them to our
Ghost Stories
section! We would love to hear from you!
If you would like to keep up with what's new at Haunted Places To Go,and receive a free ghost hunting guide,then be sure to sign up for our newsletter!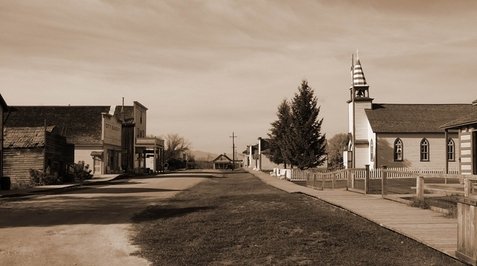 Atchison,Kansas-Haunted Atchison
It is proclaimed that this particular town has more paranormal activity than any other town in the entire state of Kansas.

Huntsville, Alabama-Haunted Huntsville
If you are interested in history, unexplained phenomenon, or paranormal stories and experiences, the city of Huntsville has many haunted places to go.

Haunted Salem,Massachusetts-"Witch City"
There are many different stories circulating regarding haunted legends, haunted folklore, and more in this historically noted "spooky" city.

Haunted Albuquerque,New Mexico-Old Town
Is Old Town a haunted town?

Haunted Athens,Ohio
Discovered to be a paranormal hot spot towards the end of the 1800's.

Haunted Gettysburg,Pennsylvania
Battlefield ghosts.

Haunted Sleepy Hollow, New York
Sleepy Hollow hauntings have been an area of interest to paranormal investigators all throughout history.

Haunted Williamsburg,Virginia-Colonial Williamsburg
Visiting ghosts from the past.

Haunted Bodie,California
You may want to think twice before taking a souvenir from this town.

Haunted St Elmo,Colorado
The physical inhabitants of this town are long gone, but....

Haunted New Orleans,Louisiana
New Orleans has been deemed as one of the most haunted places in all of the United States.

Haunted Ghost Tours in Savannah
The undead seem to abound heavily within the City of Savannah, Georgia.

Haunted Bannock,Montana
A story of gold and ghosts.

Haunted Tombstone, Arizona
When it comes to haunted Arizona, nearly all individuals think of the ghost town known as Tombstone before any other haunted location.

Haunted St. Augustine,Florida
Also known as "The Ancient City"

Haunted Alton,Illinois
Fascinating ghost pictures, ghost videos, and even audio recordings have documented real ghosts in this spooky town.

Return To Ghost Towns Top Of Page

Haunted Places Listings By State/Country

Return To Haunted Places To Go Home Page