Haunted Prisons
"Behind every man now alive stand 30 ghosts,for that is the ratio by which the dead outnumber the living. "
Arthur C. Clarke 2001:A Space Odyssey
Haunted prisons
seem to have become a popular place for ghost hunting.There are many legends and stories surrounding prisons that are deemed to be haunted around the world. Many of the facilities date back hundreds of years. Many of these haunted prisons have always served as prisons to house those convicted of crimes, while others either originated as prisons and were converted into other types of facilities, or were other facilities and converted into prisons. Regardless of the originations of these structures, one thing remains true – individuals out there that are just like me and you have had experiences there that cannot be explained based on the laws of reality that we are all familiar with. The unexplained phenomenon that occurs in these haunted prisons attracts paranormal investigators on a regular basis. Here at
Haunted-Places-To-Go.Com,
you will be introduced to several mysterious, scary haunted prisons.


Prisons have a long history of high emotions. Individuals that are confined in these types of facilities are typically facing lengthy sentences. When an individual loses their freedom of movement, their freedom of speech, their freedom to do those things that bring them contentment, and their rights in general, it does something to them. The world suddenly becomes a dark place. There is little to no hope. There is little to no happiness. There is little to no excitement towards the future. However, the individual often becomes devastated mentally and emotionally. Life, in general, typically becomes a burden in itself. Several people who serve time in prison are literally willing to give up their lives in order to escape the depths of confinement while others find that even after death, they face an eternity of confinement.

Paranormal investigators who specialize in studying the hauntings that seem to plague prisons that were once operational, and are still in operation, believe that the dead are naturally attracted to these locations due to the emotional charge that seems to linger in the air and bounce off the cold, hard walls. On this page, you will find links to several establishments that have been named as the most haunted. Learn of the heartaches, the strife, the violence, and the spirits that seem to be warped to an eternity of confinement….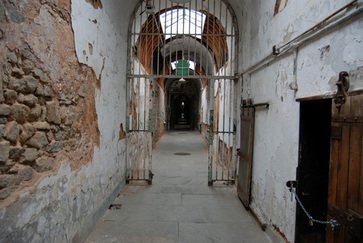 Have you experienced a haunted prison?
Share your story! We would love to hear from you!

If you would like to keep up with what's new at Haunted Places To Go,and receive a free ghost hunting guide,then be sure to sign up for our newsletter!

Yuma,Arizona-Yuma Territorial Prison
The Yuma Prison in Arizona is said to be one of the most haunted structures in the area of Yuma, Arizona.

Philadelphia,PA-Eastern State Penitentiary
Most Popular Place For Ghosts Behind Bars.

Andersonville, Georgia-The Andersonville Prison
One of the most haunted historical sites in all of the state.

Charleston,South Carolina-The Old City Jail
One of the most haunted places in South Carolina today.

Moundsville,West Virginia-The West Virginia State Penitentiary
West Virginia's Most Famous Prison

Boise,Idaho-The Idaho State Penitentiary
It is believed that the hauntings of this prison started with the violence.

Rawlings,Wyoming-Frontier Prison
This prison closed in 1981,but it seems there are still some prisoners left.

Mansfield,Ohio-The Mansfield Reformatory
The Ghosts Behind Bars In Ohio.

Mount Holly,New Jersey-Burlington Prison
Take a tour of this National Historic Landmark.

Pea Patch Island,Fort Delaware
Home of many restless spirits including pirates!

Alcatraz Island,California-Alcatraz Prison
One of the most haunted places in America.

St. Augustine,Florida-The Old Jail
One of the many haunted places in St. Augustine,Florida.

Ruthin, Denbighshire,Wales-The Ruthin Gaol
Take part in one of the ghost hunts at the Gaol, and decide for yourself if this structure is truly haunted, or not.
Share Your Haunted Prison Story
Have you had a paranormal experience while touring or working in one of these haunted prisons or another facility? If so, we would love to hear from you! Share your haunted prison story with our readers and upload any photos you would like to share.
Read the Stories of Other Contributors
Click on the links below to read the contributions from other visitors who have written about their experience in a haunted prison...

My Visit to The Old City Jail Charleston S.C.

My story took place September 27,2013 at 8:45 pm Friday night.My oldest daughter wanted to go to Charleston for her 23rd birthday so off we went.Wanting …
Castle on the Cumberland Considered One of the Most Haunted Places in Kentucky

Castle on the Cumberland Considered One of the Most Haunted Places in Kentucky According to many, the Castle on the Cumberland – also known as …
Visiting Alcatraz Island Not rated yet
Last year, my wife and I took a trip to San Francisco and while the majority of the trip was fun and exciting, the highlight of the trip was visiting Alcatraz …
Return To Haunted Prisons Top Of Page
Haunted Places Listings By State/Country
Return To Haunted Places To Go Home Page