Haunted Graveyards and Cemeteries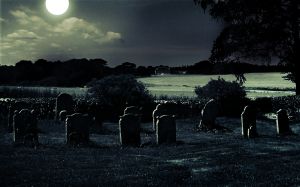 Haunted graveyards and cemeteries are located all over the world – in virtually every dark corner, and wooded area of each town and county in the United States, and perhaps…just maybe, close to where you live!
Many of the locations that are believed to be haunted are preserved as historical locations by several different branches of government, while others are cared for by individuals who live in the communities near them. There are a great deal that have been abandoned and are now overgrown and unkempt. There are many that are remembered, but want to be forgotten.
Here, at Haunted-Places-To-Go.Com,
we feel that the directory would not be complete if we did not explore some of the most haunted graveyards and cemeteries in the world….
The Huguenot Cemetery in St. Augustine, Florida


The Huguenot Cemetery in St. Augustine, Florida has been deemed by locals and tourists alike as one of the most haunted spots in all of the city! Built near the old city gate, this particular cemetery was created shortly after the establishment of Florida as a part of the United States. There were a number of victims of the epidemic of yellow fever around the year of 1821, and a need to have an area for people to be buried that were not catholic. In the end of the 19th century, this particular cemetery had to be closed because of the over crowding of graves. It is believed that Judge John B. Stickney lurks in the shadows of this haunted graveyard looking for something, even though he has been laid to rest since 1882. If you look closely, you just may catch a glimpse of soldiers, and other apparitions looking out from the grounds towards the old city gate, or even the old fort across the street….


The St. Louis Cemetery in New Orleans, Louisiana


The St. Louis Cemetery in New Orleans has been referred to as the most haunted graveyard in the United States today. There are a number of frightening spirits that seem to leisurely walk among the grounds of this spooky section of New Orleans. Many individuals who have visited this cemetery have said to experience unexplained phenomenon and ghostly encounters near the tomb of the frightening Voodoo Queen by the name of Marie Laveau. In addition to the haunting tales of this Voodoo Queen, there are stories of other spirits mingling throughout the area, as well as that of a spooky and evil boa constrictor that is said to be extremely large – some accounts claim as long as twelve feet….

Naturally, there are a number of haunted graveyards and cemeteries located throughout the world. These two represent a couple of the most popular ones you will discover here. If you enjoy ghost hunting and would like the freedom to capture ghost pictures, ghost videos, and even audible EVP's, you can use this website as a guide to plan your trips!


If you have a story to share with us, be sure to visit the
Your Ghost Stories Page.
We would love to hear from you!
If you would like to keep up with with new haunted places,and receive a free ghost hunting guide,then be sure to sign up for our newsletter!
Savannah,Georgia-Bonaventure Cemetery
You may have heard about this popular cemetery in the book that was made into a movie called "Midnight in the Garden of Good and Evil".

St. Augustine,Florida-Huguenot Cemetery
All the spirits here seem to be friendly, although some may act a little on the "prankster" side!

Martinsville,Indiana-Stepp Cemetery
This particular plot of land has been known to be haunted by the locals all throughout history.

Springfield,Nebraska-Ball Cemetery
Many notable figures who did not have the best reputation in life have been buried in this graveyard.

Wales, New York-Goodleburg Cemetery
One of the most interesting stories surrounding the Goodleburg Cemetery is directly related to the eye witness accounts of the "Hell" hounds.

Rochester,New York-Mount Hope Cemetery
Home of the "Devil's Bowl".

Midlothian,Illinois-Bachelor's Grove
There are hundreds of accounts regarding unexplained phenomenon and paranormal activity documented by various individuals throughout history here.

Hollis,New Hampshire-Pine Hill Cemetery
The Pine Hill Cemetery in Hollis, New Hampshire is rumored by many to be an area that is overwhelmed with paranormal activity.

New Orleans,Louisiana-St. Louis Cemetery #1
This particular "City of the Dead" hosts one of the most notorious tombs of all time.

Ashtabula,Ohio-Chestnut Grove Cemetery
Many report seeing and hearing children delightfully playing, men and women socializing, and even picnics taking place!

Baltimore,Maryland-The Old Western Burial Ground
Home of the ever-popular "Skull of Cambridge".

London, England-Highgate Cemetery
Home of the Highgate Vampire

Return To Haunted Graveyards Top Of Page

Haunted Places Listings By State/Country

Return To Haunted Places To Go Home Page