Haunted Cemetery in Louisiana:
The St. Louis Cemetery # 1
The most haunted cemetery in Louisiana is called "The St. Louis Cemetery # 1". Annually, many exciting events take place in the New Orleans area. There is a great diversity in this area of Louisiana when it comes to culture, festivities, music, and more. In the shadows of the ever-popular French Quarter lies one of the most haunted places, as well as one of the oldest places in the area – this is the St. Louis Cemetery which is often referred to as "number one". This is a beautiful cemetery with carefully sculpted tombs and markers of individuals who played a vital role in the history of the area. Here, you will learn about the fact that it is also the most haunted cemetery in Louisiana.

The St. Louis Cemetery # 1 has so many real ghost stories and legends associated with it, that Hollywood has made good use of it by making it the setting of very popular films. You may have seen the cemetery in the movie "Easy Rider", or even in the box office hit called "Interview with the Vampire". While these are two of the most popular movies to feature this spooky graveyard, they are not the only cinemas to feature the location. The entire "look and feel" of this particular cemetery lay way for some of the best of the best when it comes to ghosts and legends that are frightening in nature.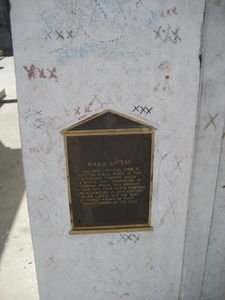 Not many individuals realize it, but New Orleans is an area that lies below sea level. This means, when it comes time to bury the dead, it is done by building above ground structures that house the dead bodies. These are often referred to as "tombs". Instead of these grounds being called "cemeteries" or "graveyards", they are often referred to as "The Cities of the Dead". This particular "City of the Dead" hosts one of the most notorious tombs of all time – and that is of Marie Laveau. This particular woman is known as the "Grande Voodoo Queen". Many individuals in the area believe that this particular woman's spirit haunts the graveyard, and any and all individuals who try to disrupt her rest, or "awaken" her. Photo:
Infrogmation/commons.wikimedia.org

If you are looking to experience real ghosts, and real hauntings, the St. Louis Cemetery # 1 is the place to go. However, you must understand that since this is the oldest in the area, you will likely experience a high level of fright at this most haunted cemetery!


New Orleans Cemetery Tour
The Cemetery Tour
is an adventure into the legendary St. Louis Cemetery, New Orleans' oldest city of the dead. You'll explore the cemetery, visit the tomb of Voodoo Queen Marie Laveau and learn about this secretive religion.
New Orleans Cemetery Tour
St. Louis Cemetery Number 1
425 Basin Street
New Orleans, Louisiana 70112
504-483-2064
Return To Haunted Cemetery St Louis Top Of Page

Return To Haunted Graveyards And Cemeteries Main Page

Haunted Places Listings By State/Country

Return To Haunted Places To Go Home Page