The Haunted Woodchester Mansion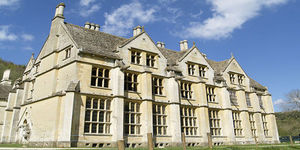 There are many hauntings said to be a part of the Woodchester Mansion in England . In the early years of the structure, it was referred to as " Spring Park ". The structure that stands today is actually considered to be incomplete, but original construction on the very first standing structure occurred in the early part of the 17th Century. The initial construction reflected that of a country house developed in Georgian architecture. The newest structure that has left to be finished that stands today is an architecture style that is referred to as "Medieval Gothic". In this guide to England hauntings, you will learn about the paranormal events that are said to occur at the popular Woodchester Mansion.

A man by the name of William Leigh purchased the initial structure. It is said that he was an active member of the Roman Catholic Church. In the year of 1854, he was very headstrong in the endeavor to create a mansion created in a Gothic architecture. In the year of 1859, Leigh had a man by the name of Benjamin Bucknall that was assisting him in creating the mansion of his dreams. By the year of 1866, the mansion was officially issued a roof, and several people continued with the construction on the mansion.. Unfortunately, William Leigh died in the year of 1873. While the mansion remained in the Leigh family for quite a few years after William passed away, not too much work was completed.


Hauntings


There are several different hauntings that are said to occur within the Woodchester Mansion . One of the first hauntings that was documented came in during the early years of the 1900s. Several different people saw what they believed to be a ghostly coach with horses. This particular phantom like phenomenon was seen at the entrance of the gates that lead to the magnificent structure, as well as on the driveway to the mansion, and in front of the structure. The horses and the driver of the coach do not appear to notice things around them, so it appears to be a residual or energy based haunting, but frightening to spectators nonetheless!

Many individuals who have visited the mansion and even those that have worked at the structure have stated that they have heard distant sounds that reflect that of talking, laughter, and even music on the ground and in the structure. Upon investigation, it is determined that there is no official "source" for the activity that is heard. Often, when individuals hear these noises, the reflection of a female apparition dressed in white has been seen moving along the upper areas of the mansion. While it is not known if the presence of the female initiates the music and other social noises that are heard, they seem to be related in one way or another.

Many individuals have stumbled upon the spirit of a small, female child while approaching and walking up and down the staircase that leads directly to the first floor. This particular staircase is located in the area that served as the original structure. It is believed that a family that resided at the original country house lost a daughter and that she still remains at the structure. Speaking of children, in the 1960s it was documented that two young boys decided to explore the structure. There was a window that was broke in the back of the establishment and they went in as a dare to take a look around. To their astonishment, near the area of the Chapel contained on the inside of the structure, there was a spirit waiting on them! When they came in direct contact with this spirit it screamed and scared them terribly!

The wars throughout history had a large impact on the hauntings that occur at the Woodchester Mansion . It is not unusual to hear of war soldiers moving along the grounds, the driveway, and inside the structure. There is a lake in the yard that also experiences a large number of hauntings. Many have met their tragic death at this area and visitors claim to see lights, apparitions, and hear sounds that cannot be explored! If you are interested in England 's best haunted places to go, the Woodchester Mansion is sure to draw your interest!

The Mansion is open to the public on specified dates from 11:00am, with the first tour starting just after. The last time of entry is at 4:00pm. Private tours of the Mansion can be arranged for groups on any day on which the Mansion is not open to the general public. For more information and directions, please visit their website: woodchestermansion.org.uk
Return To Woodchester Mansion Top Of Page

Return To Haunted Mansions Main Page

Haunted Places Listings By State/Country

Return To Haunted Places To Go Home Page