The Haunted Sorrel Weed House in Savannah, Georgia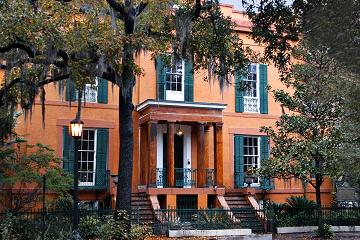 The haunted Sorrel Weed House is a paranormal and popular hot spot in Savannah, Georgia. Built in the year of 1837 by the popular Charles Cluskey, this magnificent structure still stands nestled between large and lovely southern trees.


This home
has been deemed as the single largest home in all of Savannah. This particular house has been shown and profiled on a number of television programs and channels due to the fact that it is claimed that it is haunted. These include
Ghost Hunters,
the ever popular
Today Show,
and others. Here, you will learn about this haunted house in Savannah, Georgia.
The Hauntings


There are a number of hauntings that are said to occur at the Sorrel Weed House. The following represents some of the haunted tales of individuals who have been subjected to the spirits:

• There is a room that is in the basement of the structure. Originally, this served as an office for the individual who lives in the structure by the name of "Steve". He spent approximately three months in the office. Unfortunately, he was not at ease when he was in the room. It was later discovered that the same area once housed slaves who worked in it. At that time, it was actually a kitchen for the slaves. Eventually, it was deemed appropriate to turn it into a type of "Voodoo Room" for the sake of the tourists who came to the home. Many of the visitors have claimed that they feel almost sick when they enter the room, and have had to leave. There are a number of people who claim that they feel a strong physical presence in the room as well.

• On many different nights, this same individual, Steve, who lives upstairs, has heard the sound of a party or some type of social gathering occurring downstairs. He has heard people talking, laughing, and music. When he eases down the stairs in an effort to see what is going on, everything suddenly stops. This is a very haunting and chilling experience

• Noises that sound like a war, with a marching band and all are heard. There was once a war in the Savannah area and it is believed that this is a residual haunting and replays itself over and over again.

As you can see, there are many frightening experiences that occur at the haunted Sorrel Weed House in Savannah Georgia. If you would like to take a tour and experience these hauntings for yourself, you can do so on the Sorrel-Weed House- Ghost Hunters Tour.

Sorrel-Weed House- Ghost Hunters Tour
Sorrel Weed House
6 W.Harris Street
Savannah,Georgia
912-236-8888
Return To The Sorrel Weed House Top Of Page

Return To Haunted Houses Main Page

Return To Haunted Places To Go Home Page