The Haunted Provincial Hotel in New Orleans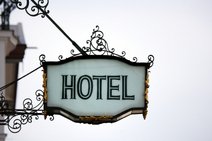 The haunted Provincial Hotel in New Orleans is considered to be one of the most popular locations when it comes to experiencing the spiritual world.


This extraordinary hotel
is located in the eloquent
French Quarter
area of New Orleans, on Chartres Street. This building was once known as a medical facility for confederate soldiers who were injured or became injured near the area of New Orleans. Today, it seems as if the haunted Provincial Hotel in New Orleans still houses the sick and injured who were once treated here, only they are spirits lingering in the physical world. Here, you will learn about this haunted hotel.
The History


The history of this hotel is extensive and somewhat dark overall. Acquired by a family with the name of "Dupepe" in the year of 1969, the property in which the hotel stands had a full history. Originally acquired by the "Ursuline Nuns", it was created into a hospital for the individuals serving in the military around the year of 1722. The structure then exchanged hands a couple of times before a lawyer bought it. This individual then tore down the structure and put two buildings in place of it. Eventually, it was purchased by someone else and then turned into a place where people could buy coffee, and even stay. These two buildings burned down. This occurred in the year of 1874.

Once the building was destroyed by the fire that consumed it, another building was erected in the same location. For a short time, a seed company owned the building. However, it was finally sold to the Dupepe family in the year of 1969. It was at this time in which the building was transformed into the lavish hotel that stands today. However, some of the visitors, employees, and residents of the property seemed to have lingered throughout the years in spiritual form….


The Hauntings


There are many different hauntings that are said to occur at the Provincial Hotel in New Orleans. Many of the hauntings that seem to occur in the hotel seem to be residual type hauntings of events that occurred in the past. Events like individuals dressed in military clothing that are crying and literally moaning in severe pain and covered in blood are often seen, as well as doctors tending to the wounded and the sick. In many areas, you will see pools of blood that will literally disappear in front of you!

If you would like to experience the hauntings of the Provincial Hotel, you can easily do so! Check for the lowest price, get directions, view photos, and read the reviews and traveler tips for the Provincial Hotel.


Spooky but fun - A nighttime walking tour of the French Quarter is sure to give you goose bumps! See why New Orleans has been referred to as ''The most haunted city in America.''
Return To Provincial Hotel Top Of Page

Return to Haunted Hotels of the South Main Page

Return To Haunted Places To Go Home Page